Book Tour Madness
Cozy Mystery / Women Sleuths
Independently Published

Publication Date: April 10, 2023

Page count: 232 pages
SCROLL DOWN FOR GIVEAWAY!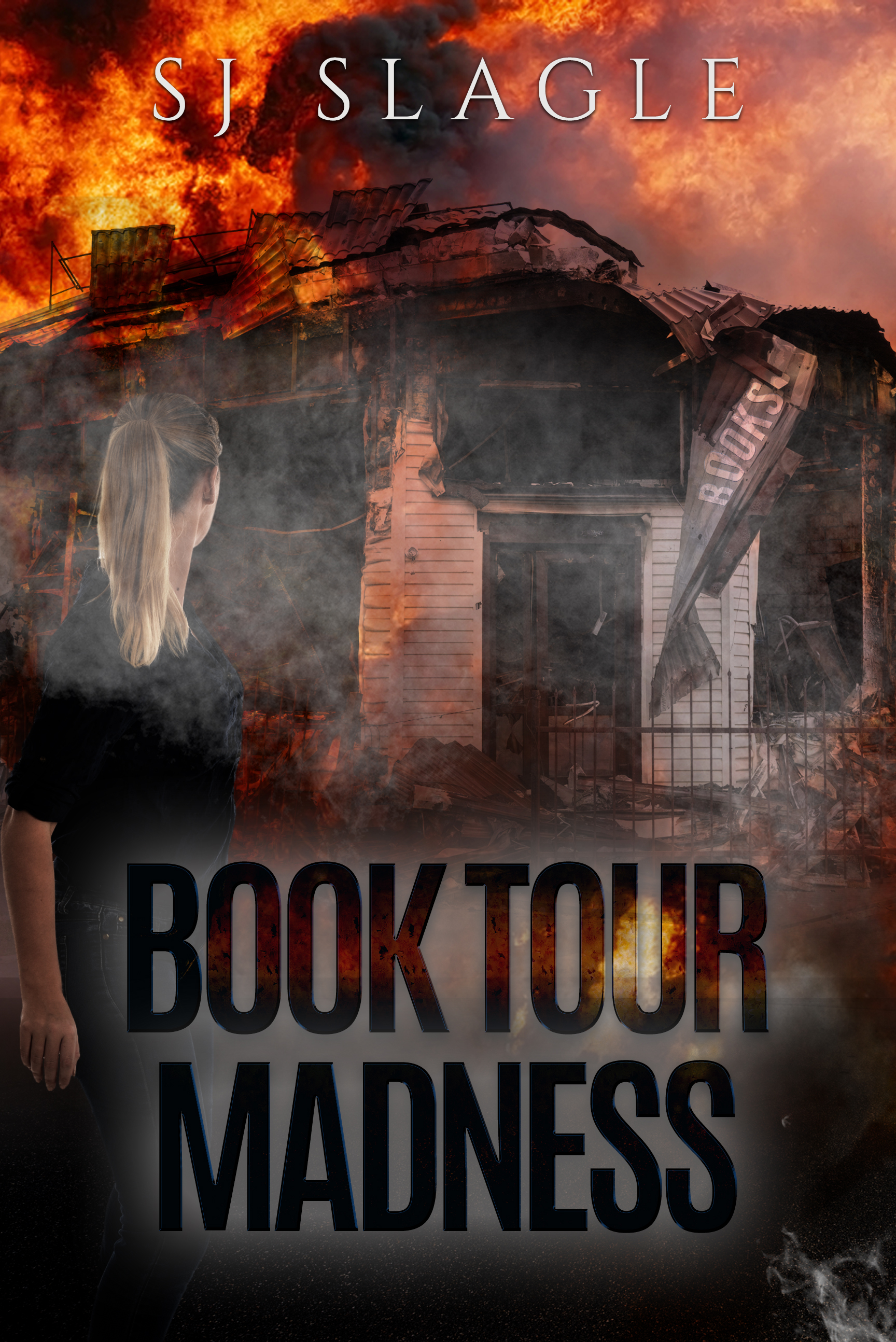 Jaynie Floyd, a celebrated mystery writer, has a book on the New York Times bestseller list. It's wonderful news and her agent wants to send her on a book tour to promote it. However, Jaynie is newly widowed and doesn't want to go. As she works through her grief, a myriad of problems arise with family and life.
Once she finally decides to go on the book tour, partially to escape, all hell breaks loose. One of the other authors on the tour is murdered and Jaynie's instincts as a mystery writer are called into action. Soon she is chasing down leads and suspects, all the while avoiding requests from police and family to keep out of it. Her skills and curiosity take Jaynie into dangerous territory, from which she may not escape. Bodies pile up as she gets closer to the truth. Truth that could make sure she bothers the killer no more.
Book Tour Madness is a story of survival after the death of a spouse, mixed with an old-fashioned murder mystery.
CLICK TO PURCHASE!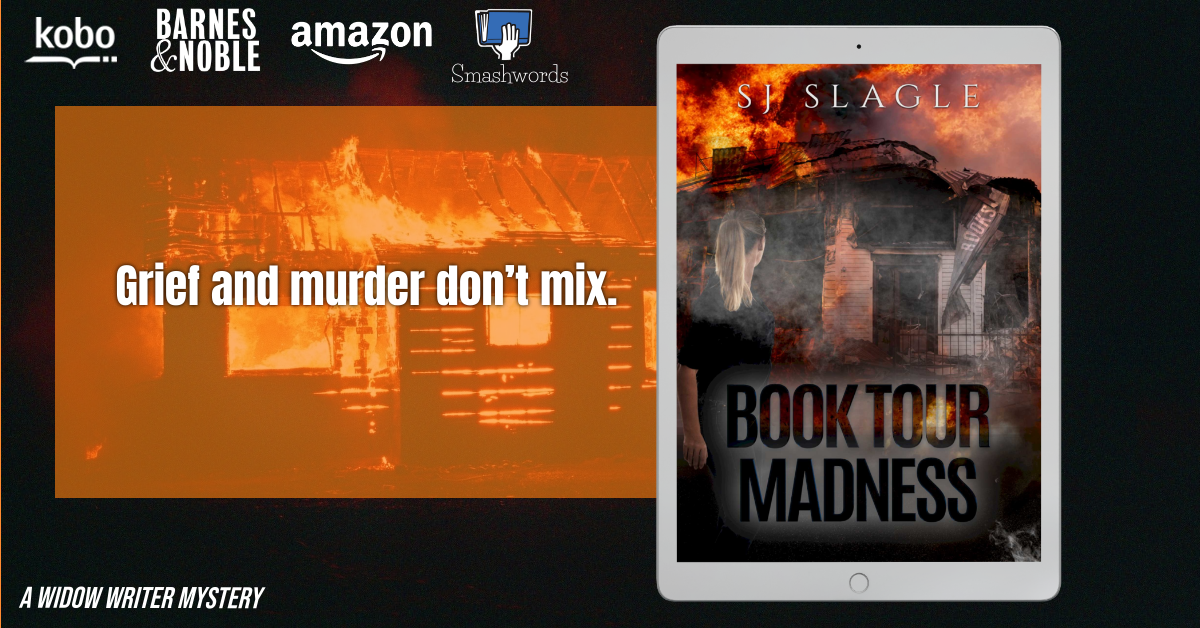 READ AN EXCERPT:
No one responded to my single knock on her door, so I pounded on the door. Still no answer.
My nose twitched. Her overpowering perfume from the other night drifted my way. There was no mistaking that pungent aroma. She had to be close by. Without thinking twice, I headed downstairs to find the hotel manager.
Even before the short, balding man put a magnetic card into the door lock, I had a sinking feeling that we weren't going to like what we found. Chalk it up to writing murder mysteries for the past ten years, but I didn't dismiss feelings. They were a natural part of the selection process and a dogged reminder of human frailty.
He opened the door wide.
At first, there was nothing to see, save an unmade bed, clothing and cosmetics scattered around and a standing ice bucket with a bottle of champagne.
Champagne?
We'd checked into the hotel at 11:30, Hilda and I had gone to lunch with Marliss begging off. She was entertaining at noon when we had the signing event at two? Curious.
The hotel manager stepped aside and I walked over by the ice bucket. I was about to pull out my cell phone to take pictures when a furry pink shoe on the floor by the massive bed caught my eye. We had been booked into suites with four-poster beds that occupied seemingly half of our bedrooms. Marliss' room looked just like mine.
I walked two steps toward the furry shoe with heels too high for me when a leg suddenly stretched out not far from it. I froze in my tracks when the rest of the body came into view. Crystal clear.
REVIEW:
Once I started it, I didn't want to put it down.
Book Tour Madness, the first book in the new Widow Writer Mystery series by veteran author S.J. Slagle, is a well-paced puzzler with never a dull moment. Besides the murder mystery, it is also a compelling story of a recent widow coming to terms with the loss of her beloved husband and dealing with unforeseen drama and upcoming changes in her close-knit family: a daughter whose life and marriage are in crisis and a son who's just announced that he and his long-time girlfriend are getting married in a month. With all this suddenly on her plate, Jaynie may need an escape but not a commitment to a book tour.
Jaynie Floyd is the steady and likable mystery writer whose latest novel has hit the New York Times Bestsellers List. The author writes authentically about Jaynie's loss of her husband and working through her grief. She processes her feelings throughout the story, and her reminiscences of Laurence become only those of happy times and encouragement. The genuine nature of what the character was experiencing so affected me; I held back tears as she shared her emotional state.
I loved how Jaynie becomes embroiled in solving the murder almost as a second thought. She doesn't have a track record of getting involved in prior cases but friends and family members all warn her off investigating based on her career as a mystery writer. Human nature being what it is, I think I, too, would have started asking questions myself after so much goading, backhanded prodding, and the implied doubts about my abilities.
Caught in the middle of the drama between the other two authors, Jaynie gamely tries to act as a buffer. Thank goodness there's at least one adult in the group! Shady and sour characters surround her, and the encounter with the shadowy man at the hotel gave me goosebumps. However, the fine doctor at the hospital in Las Vegas was also goosebump-inducing for an entirely different reason. I certainly hope he returns sometime in the series and Jaynie pursues that connection.
The mystery is complex, with many layers to reveal before the resolution. There's a strange car tailing Jaynie, failed murder attempts, and a Vegas mobster and his goons involved. The story is well-paced, with action and good investigative work happening, twists in the telling, red herrings, and some great armchair traveling awaiting the reader. This book is perfect for reading in short bits or one long, satisfying sitting. Once I started it, I didn't want to put it down.

I recommend BOOK TOUR MADNESS to cozy mystery readers who like capable, strong female protagonists, writer amateur sleuths, or stories set in some iconic western cities: Reno, San Francisco, Los Angeles, or Las Vegas.
ABOUT THE AUTHOR:
SJ SLAGLE started her career as a language arts teacher. When she began writing, her initial interest was children's stories, but then she moved on to western romance, mysteries and historical fiction. She has published 30 novels. Her website is www.sjslagle.com. SJ has established Twitter and Facebook fan bases, and a quarterly author newsletter.
SJ Slagle has written several western romance series including: THESE NEVADA BOYS, RANCHER, and THE WESTERNERS, as well as mystery series: FLOYD SISTERS MYSTERIES and SHERLOCK AND ME. All her books are distributed in digital, paper and audiobook formats.
Her first historical fiction novel, LONDON SPIES, was awarded a B.R.A.G. Medallion in 2018. She was given the Silver Award with the International Independent Film Awards for her screenplay called REDEMPTION. She conducts writing/publishing symposiums in her local area.
SJ Slagle lives and works in Reno, Nevada.
GIVEAWAY! GIVEAWAY! GIVEAWAY!
a Rafflecopter giveaway